Meet Me On Monday is a meme hosted by Java at
Never Growing Old
. Each week she posts 5 questions to be answered which is a fun way of getting to know one another.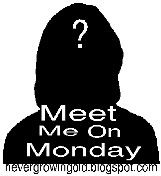 Questions:


1. Do you wear socks to bed?
2. Do you have any pets?
3. What topping(s) do you like on your pizza?
4. What time do you go to bed?
5. Would you rather get free chocolate for one year or free potatoes forever?
-------------------------------------------------------------------------------------
1. Do you wear socks to bed?
Yes but only in the cooler winter months. If my feet are cold then I am cold and it can take a while to warm up. I don't just wear any old socks though. I prefer the proper soft and fluffy bed socks which keep my feet snuggly warm.
No we don't currently have any pets. We are renting at the present time and our lease won't allow us to have any pets. When we finally get a place of our own I would like to get a seal point rag doll cat. They don't come cheap though.
3. What topping(s) do you like on your pizza?
It all depends. Usually I am in bed somewhere between 9.30pm to 10.30pm. The last couple of nights I haven't made it to bed before midnight.
I would opt for free potatoes forever. Always preferred savoury things over sweet. My three males are chip-a-holics. I love potatoes in many forms including roast, chips, wedges, scalloped, jacket etc....
This entry was posted on Monday, September 6, 2010 at Monday, September 06, 2010 and is filed under
Meet Me On Monday
. You can follow any responses to this entry through the
comments feed
.