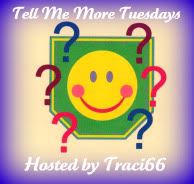 >
************
1. Can you swim?
Yes I can swim. I am not the best of swimmers but can swim. Don't get to go swimming very often though. Would love to swim with the dolphins one day.
As a rule no. We are all guilty of telling a lie or two from time to time. Honesty is always the best policy. You can be sure that your lies will always be found out.
3. Do you have any body piercings?
The only piercings I have is that I have my ears pierced once in each ear.
4. Are you related to anyone famous?
Not too sure on that one. Will have to do some research.
5. Do you have any tips on approaching companies about sponsoring reviews and/or giveaways?
No. It is not something that I have had any experience with.
6. What is the best thing you have ever won?
I once won $800.00 playing Lotto.
7. Is sex ok before marriage? (I kinda borrowed this one).
It seems to be considered the norm these days. Makes you stop and wonder how many have regretted their decision and wish they had waited. I think if you are going to it should be with someone special and in a meaningful way. I am not one for one night stands.
8. If you borrow something for someone should you return it? And in what shape?
Yes you definitely should return anything you borrow. Something was lent to you in good faith then the decent thing would be to return the item you borrowed. Sadly this has not worked out for me. I have often lent things out to people but unfortunately they do not return them. I have lost many books over the years that I have lent out to people and they haven't returned.
This meme is being hosted by Traci and to check out her meme and participate you can visit her blog
Traci 66
.
This entry was posted on Tuesday, August 10, 2010 at Tuesday, August 10, 2010 and is filed under
Tell Me More Tuesdays
. You can follow any responses to this entry through the
comments feed
.